Missouri Address Database (MoNAD)
Missouri Address Database (MoNAD)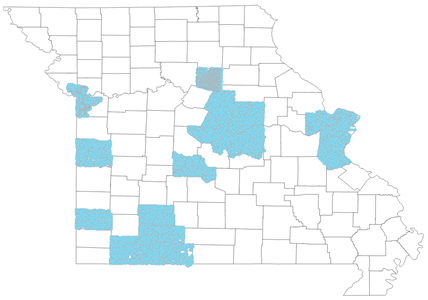 The MoNAD is a statewide effort of the Missouri GIS Advisory Council's Local Government and Data Development Committee through partnership with the National Address Database program.  Central to this effort is enabling locals to provide their authoritative data into the database and thus improving the consistency and accuracy of addresses used at the local, state, and federal level by FEMA, Department of Homeland Security, DOT, Census, and others.
Thank you to the following counties/cities who are participating; Cole, Camden, St Louis, St Charles, Barry, Bates,  Christian, Callaway, Jasper, Jefferson, Greene, Moniteau, Osage, Stone, Taney, Randolph, City of Independence, Springfield, Jefferson City, Columbia and Boone totally nearly 1.6 million standardized addresses to-date.  To learn more, review the reference materials below.
To get your County or City involved or sign up for our email list to learn about future developments, please contact Jason Warzinik Boone County Fire Protection District IT Division Manager.