Minutes for June 13, 2019
Minutes for June 13, 2019
Date: June 13, 2019
Location: MDC Credit Union Jefferson City
Time: 10:30 a.m.
Agenda
Call to Order Meeting called to order at 10:31 a.m.
Welcome and Introductions
Jun-19
Ex-Officio Members
MSDIS
Thomas Vought
P
NSGIC Liaison
Tony Spicci
A
OA ITSD GIS
Tracy Schloss
E
USGS
David Nail
P
State Members
DNR
Jerry Prewett
A
Economic Development
Colin Duewell
P
MDC
Tim Bixler
P
MOARNG
Wiley Howell
P
MoDOT
Joe Carter
P
OA Planning and Budget
Matt Hesser
P/T
SEMA
Konrad Hughes
A
Cooperating Members
BCFPD
Jason Warzinik
E/P
Boone County
Nathan Mattox
P
Proxy for Warzinik
City of Columbia
Roy Thorsby
P/T
City of Jefferson
Buster Schrage
E
City of KC, MO – Water
Stacey Roberts
P/T
City of Lee's Summit
Steve Marsh
A
City of Maryland Heights
Andy Wagner
A
City of St. Charles
Chuck Lovelace
A
Cole County
Melissa Johnson
E
Columbia Public Schools
Laura Estabrooks
P
Jasper County
Nikki Hill
A
Mid-Mo RPC
Jennifer Bowden
E
MoRAP
Diane True
A
MU Extension/CARES
Chris Barnett
P/T
Northwest Missouri State
Ming-Chih Hung
P/T
Sanborn
Brad Arshat
P/T
SEMO RPC
Stan Balsman
P
St. Louis County
Jeanne Jennings-Jimenez/Melisa McLean
P/T
Surdex
Tim Donze
P
US ACE St. Louis
Michael Gawedzinski
P/T
USDA-NRCS
Debra Boshert
A
Washington University
Mollie Webb
A
Wilson & Co.
Eric Cenovich
A
Woolpert
Kent Park
P/T
Other Attendees
ESRI
Chase Fisher
P/T
Fugro
Les Bevin
P/T
MO Botanical Gardens
Kayla Flamm
P/T
MSPS
Jon Cole
P
P = Present
P/T = Present via Telephone
P/P = Present via Proxy Substitute
E = Excused
E/P = Excused, Proxy via Other
A = Absent
V = Vacant
Approval of Minutes: May minutes available on the web site.
Approved
MGISAC Administration
4.1 Missouri OGI Report — Tracy Schloss
New and Updated Data
– 2019 Ambulatory Surgical Centers May Update
– 2019 Dialysis Centers May Update
– 2019 Local Public Health Agencies May Update
– 2019 Rural Health Clinics May Update
– 2019 WIC Satellite Offices May Update
– 2019 Lake Numeric Nutrient Criteria Watersheds My Correction
– Jefferson City 6 inch resolution imagery and QL2 Lidar
MSDIS General News
We are pleased to report that Dr Soren Larsen has agreed to serve as the Chair of the Department of Geography starting on 01 July. Dr Larsen has expressed clear support for MSDIS and we are very excited to work with him as we continue improving the clearinghouse.
MSDIS would like to thank Dr Mike Urban for the incredible support that he provided to the clearinghouse during his tenure are Geography Chair. Dr Urban was forced to make some very difficult decisions during a budget crisis of historic proportions and we are grateful for all he did to make sure that the clearinghouse – an entity which does not traditionally generate any income on its own – was able to remain operational. Under Dr. Urban's leadership, MSDIS has – among other things – rebuilt itself to take advantage of new distribution services such as the Open Data portal, cut operating costs by shedding our aging physical hardware, and successfully secured a grant to lead a training workshop which we completed earlier this year.
MSDIS Downtime
No outages were reported during May 2019, however both the imagery and map servers were briefly rebooted on Friday 24 May at 6:00 PM in order to complete a DNS change initiated by DoIT.
There were isolated reports of slowdown and difficulty accessing the imagery server on 14 and 15 May, but these problems could not be replicated by MSDIS.
Listserv Subscriptions
KCAIUG – 207
MGISAC – 183
MISSOURIMAPPERSASSOC – 38
MOGISCON – 977
MOGIS_ADVISORY_COUNCIL – 28
MSDIS News – 182
STLGIS – 369
MSDIS Data Wish List
While MSDIS is always happy to distribute any new data, based on requests from our users, GRC map requests, and the overall state of the data catalog, acquisition of new or updated versions of the following datasets are of particular interest:
Missouri School Districts (latest Missouri version: 2013, latest TIGER/Line version: 2017)
Missouri Voting Districts (latest version: 2010)
Missouri Contour Lines (no previous version)
Missouri Higher Education Facilities (previous Missouri version: 2010)
Missouri Library Districts (previous version: 2013)
Missouri Enhanced Enterprise Zones (previous version: 2012)
Treasurer's report — Tim Donze
| | | |
| --- | --- | --- |
| Previous balance | | $23,340.88 |
| Income: 2019 Conference | | $ 3,484.57 |
| Paid Expense: Speaker phone | | $432.84 |
| Ending balance | | $26,392.61 |
Encumbered Expense:   NSGIC membership $1,500
4.4 Membership report — Wiley Howell
Some inactive agencies have been removed from the membership list
Some new agencies have been added
Total Member Agencies/Organizations: 35
                    -Members in Good Standing (Voting): 29
                    -Member Vacancies: 2
                    -Absentees (2 or More Consecutive): 4
                    -Quorum: 18
4.5 By-laws — Joe Carter
Project Updates/Action Items
5.1 2018 NAIP
Tom V is inquiring through the NRCS regarding the NAIP imagery SIDs.
Committee Reports
6.1 Data Development — Chase Fisher
Meeting held on the 6th.
Topics included Data Sharing, Standards and a possible State Leaf-off ortho project
6.2 Education — Laura Estabrook's & Joe Carter
Laura is working on presentations for bicentennial and Historical Society

Local Government — Melissa Johnson

No report

Marketing and Communications — Jason Warzinik

Please provide contact updates for the website
Tim Bixler:

a new tool at the MGISAC meeting today that has been made available by the USDA that assists agencies with developing a list of media outlets based on a specified geometry.
USDA created a new media tool that allows users to identify and create media distribution lists for given geographic areas. Now, the tool is available to state agencies FOR FREE!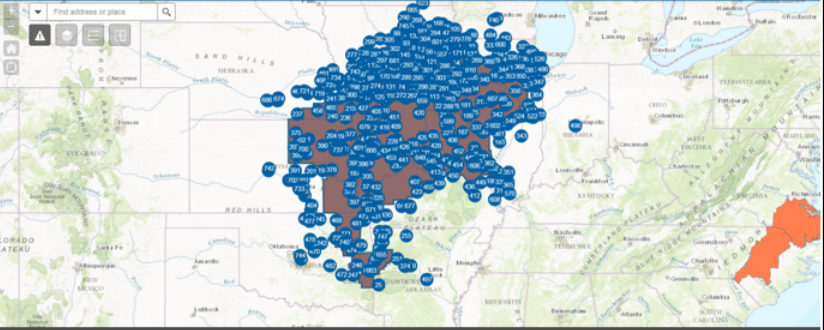 MORE ABOUT THE TOOL
First, this system lets you pick a location (down to 0.1 miles in size) for news distribution, and then will generate a contact list of the media outlets within that location. Possible uses of the tool include:
Disaster response: target news outlets specifically serving areas affected by active wildfires and hurricane cones without needing to send releases statewide; targeting areas affected by CBRN incidents to provide health and safety information
Public safety: target media serving populations within any mile range (from one-tenth of a mile up to 1,000 miles) from a site of a hazmat/nuclear incident; target media in area where a most-wanted fugitive was spotted; better promote state police activity and arrests
Transportation projects: select a portion of highway slated for an infrastructure project and promote the work to media serving those who would use that stretch of interstate; in case of bridge collapses, distribute information to media in areas where travelers would need to find alternate routes
Energy: promote wind energy in areas of the country where strong winds are prevalent most of the year; promote advances delivering better electricity reliability in an area served by improved infrastructure
Agriculture: select areas of the state where particular crops are grown to highlight state programs benefitting those producers
Health: promote health tips following heat advisories issued in your state by the National Weather Service
Because the system is GIS-based, users can perform searches against any GIS layer, including GIS layers that are internal to your agency. The system allows users to distribute information to media serving specific geographic regions of interest, including within hurricane cones and demographic layers, and allows them to apply buffers to their searches.
If you have any questions and/or want access to this tool, please contact Dirk Fillpot, a communications coordinator at USDA's Office of Communications, at his office (202-720-3088), on his cell (202-339-1367), or by email (dirk.fillpot@usda.gov).
All the best,
Whitney Forman-Cook
Communications Director
National Association of State Foresters
Workshops, Conferences & Outreach — Tim Donze
We have a host for our next Metadata Workshop

Steve Marsh has offered their facility at Lee Summit
6.6 Strategic Planning — Colin Duewell
Review of 2 year objectives, all were generally met
Liaison Reports
7.1 MAGIC Consortium — Steve Marsh
7.2 National States Geographic Information Council — Tony Spicci
June NSGIC Liaison Report for MGISAC
3DEP
If you missed the Year Two Kickoff Meeting yesterday you can view the slides at https://bit.ly/2WSGgzN
FEMA
The Federal Emergency Management Agency (FEMA) is announcing an invitation for the public to comment on the development and implementation of Disaster Recovery Reform Act (DRRA) Section 1234: National Public Infrastructure Pre-Disaster Hazard Mitigation Grant Program.
Communities from all levels of government federal, state, local, tribal, and territorial, as well as key stakeholders, including private businesses, citizens, vulnerable and at-risk populations, critical infrastructure sectors, and non-profit, academic, and philanthropic organizations are encouraged to provide comment. The development of the BRIC program – and how as a nation we can deliver those outcomes – is vital. This change will allow FEMA to invest in projects that drive risk reduction and build capability for communities. For more information on DRRA, visit https://www.fema.gov/disaster- recovery-reform-act-2018.
Comments will be accepted from May 20 through July 15, 2019, on IdeaScale at https://fema.ideascale.com/a/campaign-home/61112 or by email at BUILDBRIC@fema.dhs.gov
Broadband
On May, 16, 2019, Senators Shelley Moore Capito (R-W.Va.), Brian Schatz (D- Hawai'i), Jerry Moran (R- Kan.), and Jon Tester (D-Mont.)-all members of the Commerce, Science, and Transportation Committee- introduced the Broadband Data Improvement Act (BDIA), legislation to improve the accuracy of broadband coverage maps and better direct federal funds for broadband buildout. The legislation is supported by a broad range of groups and organizations, including NCTA-The Internet & Television Association, NTCA-The Rural Broadband Association, the American Farm Bureau Federation, the Microsoft Corporation, the Competitive Carriers Association (CCA), the National Rural Electric Cooperative Association (NRECA), and the West Virginia Broadband Enhancement Council. The Broadband Data Improvement Act would comprehensively improve the National Broadband Map in the following key ways:
Granular Service Availability Data – Requires broadband providers to report service availability by submitting GIS shapefiles that indicate actual network coverage, completely updating or replacing the current Form 477
Three-pronged Data Validation Process –
The collection of public feedback regarding the accuracy of the map, obtained via a new feedback tool that will be integrated into the online mapping
The acquisition of third-party commercial datasets on broadband availability that are analyzed and compared against provider-reported
Targeted on-the-ground field validation of services in areas where public feedback and third-party data suggest the map is
Periodic Challenge Process – Requires the establishment of an ongoing, efficient, and scheduled process by which the public and broadband service providers may challenge the map, and through which the FCC analyzes and resolves any challenges to update the map
Federal Funding Programs Guidance and Broadband Investments Tracking – Requires the National Broadband Map to be utilized by federal agencies to identify areas that remain unserved and track where awarded funds have actually resulted in broadband
Data Submission Assistance to Small Providers – Minimizes the burden on smaller service providers that may not have GIS capabilities by providing data submission assistance to ensure the information they report is as accurate as
NG9-1-1
NENA recently released their NG9-1-1 Go-To Handbook (https://www.nena.org/page/NG911GoToHandbook). The description from the NENA website states:
"A considerable trove of written material and standards exists about NG9-1-1 within NENA, as well as other standards bodies and industry organizations. The NENA NG9-1-1 Go-To Handbook provides guidance to help 9-1-1 authorities create a smooth, timely, and efficient project-management approach and transition plan to implement NG9-1-1 and assist in answering the question, "Where does one start to gain a more complete understanding of all the materials available about NG9-1-1?"
The document references GIS documents but also includes useful project-level guidance on things such as: education, governance, and communications plans. Those beginning or currently working on the transition to NG9-1-1 might find it useful.
In March 2019, the FCC proposed an improved vertical (Z axis) location accuracy metric of ±3 meters relative to the handset for 80 percent of indoor wireless 9-1-1 calls. A location that is 3 meters above or below the phone should be sufficient to identify the caller's floor level so that 9-1-1 can dispatch field responders to a specific floor in a building. This continues the FCC's intent to have a caller's "dispatchable location" (street address, apartment number, floor, lat/long, etc.) be provided with a 9-1-1 call on a phased-in basis beginning in April 2021.
Comments on the new rules were invited through May 20 and while there was agreement that this new metric can be attainable by 2021, how to deliver a dispatchable location to the PSAP is a sticking point. Some want a civic address to the floor and unit level while others prefer a geodetic location as there is no standard for floor/level numbering (i.e. missing floor 13, sublevels, lobby
levels). Precision Broadband, LLC included interesting charts in their comment submissions (links below) that show how the industry is split into different camps. Reply comments are being accepted through June 18, 2019. The original comments and subsequent responses can be found at the "Comments submitted to FCC" link below.
Some commenters also expressed concerns about the NEAD, stating it "may not be the best platform for delivering dispatchable location" and "it still lacks the reference point density and is prone to gross location errors." According to the CTIA, the wireless carriers have supplied 25 million reference points in the NEAD to-date and have acknowledged difficulty in obtaining reference points from third-parties (i.e., cable operators). For more information, see CTIA's "E911 Location Test Bed Dispatchable Location Summary Report" posted at www.fcc.gov/ecfs/filing/104260730612217, that "describes the initial evaluation of National Emergency Address Database (NEAD)-based dispatchable location solutions."
FCC's Enhanced 9-1-1 rules: www.fcc.gov/document/…
Comments submitted to FCC: www.fcc.gov/ecfs/search/…
Precision Download – June 7 Comments: www.fcc.gov/ecfs/filing/10607227049000
Precision Download – May 30 Comments: www.fcc.gov/ecfs/filing/10530015724948
Good summary articles about the new vertical location accuracy metric
Initial announcement: www.rrmediagroup.com/News/NewsDetails/NewsID/18065
June update: www.rrmediagroup.com/News/NewsDetails/NewsID/18334
Cooperating Agency/Organization Reports
8.1 NRCS — Debra
8.2 USGS — David Nail
17 counties of new DEMs will be going to MSDIS
Newest project was mostly postponed due to flooding
8.3 Missouri Resource Assessment Partnership — Diane True
8.4 Missouri Mappers Association — Melissa Johnson
Melissa is less involved with mapping and Mo Mappers lately
Tim D will reach out to see of Mo Mappers would like to provide a representative
8.5 Missouri Society of Professional Surveyors — Jon Cole
Round table Discussion
Next meeting: July 11, 2019, 10:30 a.m., MDC Central Regional Office E Gans, Columbia MO
Meeting adjourned at 12:15 a.m.